NC IT Roadmap - Education
NC IT Roadmap - Education
"I believe that public education is one of the most critical duties of state government." 

- Gov. Roy Cooper 
North Carolina has 115 local public school districts and more than 2,500 traditional public schools, 184 charter schools and three residential schools for students with hearing and visual impairments. These schools serve over 1,521,200 K-12 students. Our state's success depends on a robust public education system.   
The digital age has transformed North Carolina's classrooms, student educational goals, and parental expectations of easy access to online information about student progress. It is our job to find ways to leverage technology to create environments where our state's children can learn.   
Governor Cooper has proposed solutions to keep our public schools strong and make North Carolina a Top Ten Educated State by 2025. Among the proposed solutions are measures to provide 21st century classrooms for digital-age learning, improve school safety, and modernize our state's business systems for education. Information technology will be instrumental in bringing these initiatives to life.  
Digital-Age Learning
A 21st century classroom is a connected classroom. It brings the world into the classroom through digital exploration, preparing students for the global economy. As noted in the 2015 Digital Learning Plan:  
"The transition to a digital-age education system that fully harnesses the power of modern technologies will impact all aspects of education, including the content students learn, the methods teachers use, where and when learning takes place, what resources are required, and how success is defined and measured."   
North Carolina is well on its way to ensuring that all students have access to the tools they need to learn in this digital age. We have rolled out Wi-Fi in every classroom through the School Connectivity Initiative. We will continue to provide high quality internet access, client network engineering, identity services, E-rate support, cybersecurity monitoring and funding that benefit all NC public schools. We are building on this technical foundation to advance educational opportunities with initiatives like the following:   
Digital Learning and Online Educational Resources 
Digital Content: North Carolina is committed to transitioning to the use of high-quality, openly licensed educational resources in schools across the state that are interactive, flexible and easily updated. We have adopted an Open Educational Resources platform built upon a core set of NC Digital Learning Plan guiding principles that include focus on teaching and learning, enabled and enhanced by technology, and leveraging existing innovations, expertise, and resources from throughout the state while building upon national and international models and research. We are developing convenience contracts to make it easier for Local Education Authorities (LEAs) to procure digital curricula for math and literacy.  
Standardizing Learning Management System: At the core of digital learning is a learning management system (LMS) - connecting students, teachers, parents, and content. We will standardize on the existing LMS, providing access to expanded online learning opportunities. The NC Virtual Public School (NCVPS) and a majority of NC school districts have already standardized on the State-contracted Software as a Service (SaaS) service. The SaaS service is integrated with the statewide student information system (SIS), pulling roster data and pushing grades. Moving forward, the LMS should integrate with digital content platforms (e.g., from HMH, McGraw Hill, Pearson, Discovery Learning) leveraging IMS Global standards including LTI, Common Cartridge, and OneRoster. This will allow districts to have a single core platform instead of managing a proprietary platform for each content provider.  
Virtual Learning Opportunities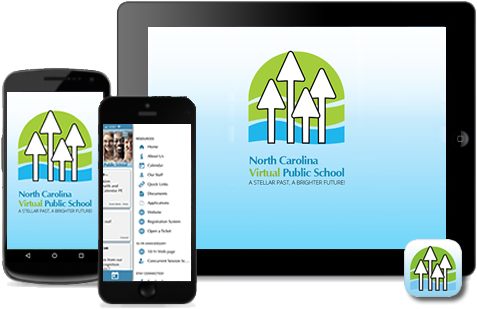 NC Virtual Public School: NCVPS is North Carolina's state-run online class program. As of 2017 the system was the second largest online class program in the United States, with over 430,000 students enrolled. Classes are taught by certified North Carolina teachers to students from all economic levels and locations across the state. NCVPS offers over 150 different classes in 6 different programs: Traditional, Occupational Course of Study, Flex Learning, Math Intervention, Middle School, and English Language Learners. These programs also provide flexibility for students in traditional schools, allowing them to take classes that are not available in their school. The structure of the virtual public schools allows the students to have a more personalized experience.
NCVPS is continually adding new functionality, most recently expanding to include a college readiness program with a Peer Tutoring Center.
Distance Education Opportunities: Opportunities for students in the public school system continue to grow as more online educational platforms are developed. For example, DPI has partnered with the North Carolina Community Colleges System (NCCCS) to provide online learning opportunities for high school students through the Career and College Promise program. These programs allow students to graduate from high school with both a high school diploma and some college credits, or a two-year degree for transfer into a North Carolina university or immediate entry into the workforce. We will continue to expand these programs as new platforms and opportunities arise.  
   
Closing the Homework Gap: Students at all levels of education - elementary, middle and high school - are expected to complete and submit coursework through online platforms. Use of online textbooks and resources, as well as completion of online assignments require that students have an adequate computer and broadband internet connection at home. For economically disadvantaged students and those who live in areas with poor or no broadband coverage, school performance suffers because these students cannot complete online homework assignments at home. The issue is compounded as students advance into middle school and high school, where increasing amounts of coursework require the use of internet resources. We are partnering with community groups (e.g. public libraries, community centers, municipalities, downtown areas, and internet providers) to support out-of-school internet access for students to help close the homework gap. 
School Safety
"When parents send their kids to school they expect them to be out of harm's way, and we owe it to these kids and their families to make sure our schools are safe environments for learning." 

- Governor Cooper 
The safety of our children is of utmost importance. The NC Department of Public Instruction (DPI) Center for Safer Schools serves as a hub of information and technical assistance on school safety to school faculty and staff, law enforcement, youth-serving community agencies, juvenile justice officials, policymakers, parents and guardians, and students in K-12 schools. We will continue to leverage technology to help ensure a safe learning environment for our children.   
 

Safer Schools Application: After running a successful pilot with 42 schools in four counties, the General Assembly has asked DPI, through its Center for Safer Schools, to implement a statewide student anonymous safety tip application. The application will be available to all schools serving grades six or higher in local school administrative units, charter schools, regional schools, and schools operated by the agency and the University of North Carolina, as required under G.S. §115C-105.51.  
School Emergency Response Application (SERA) Enhancements: DPI will work with Emergency Management local entities to implement a panic button for educators if funds are appropriated. This panic button would directly connect with emergency management and law enforcement in the schools' respective districts who will be able to leverage the school floor plans and other data available in SERA.  
K-12 School Business Systems Modernization Program   
School Business System Modernization is a comprehensive program to update Local Education Authority (LEA) and DPI core financial, human resources (HR), payroll, and ancillary systems and applications, that was initiated and funded by the legislature. In addition, there is a major reporting and analytics component. This program consists of four main efforts:   
LEA Modernization: LEA modernization is focused on the replacement of obsolete LEA legacy midrange and core financial systems originally deployed in the 1980s. To accommodate new state and federal requirements, numerous applications using a myriad of technologies have been built to supplement the core financial systems, resulting in dozens of applications that now need to be supported, maintained, and hosted.   
LEA Stabilization: LEAs host their financial and human resource operations either on-premise, on an out-of-support AS400, or both, resulting in significant ongoing maintenance costs for the LEA. Since modernization of every LEA is necessary to create a network-wide stable platform capable of being operational over a five to eight-year period, all must be assessed.   
 
Modernize the LEA financial and HR (ERP) systems to SaaS: Move all LEAs to a SaaS financial and HR platforms connected to DPI via an integration bus with data propagated by the newly expanded Uniform Education Reporting Standard (UERS) to the State Education Operational Data Store (SEODS). Currently only financial data is specified in UERS and collected via a comma separated variable (.csv) file format. This rollout will be phased over the next five years.   
Agency Modernization: Agency modernization is a Human Capital Management (HCM) Initiative which includes the entire LEA employment cycle from applicant tracking through hiring, evaluation, professional development, and license renewal. A broader HCM solution will be considered to include similar functionality for non-licensed positions. Modern ERP and reporting systems must link to the NC licensure environment. Licensure status and years of service directly affect salary as reflected in the salary schedule for certified positions, e.g., teachers, principals, and school psychologists.   
   
In a modern environment, an ERP platform would interact with the licensure system via current internet protocols to verify years of service before issuing a paycheck. Related reporting systems would interact with the licensure system through standards-based interfaces and protocols.   
 
The NC Community College System is working on a similar effort that replace the ERP that community colleges use.  
 
Data and Analytics
DPI has initiated several projects to centralize and modernize agency data. These projects fall into four primary categories:
Data Standardization: DPI has expanded the foundational work on the Common Education Data Standard (CEDS) by expanding the agency data schema from student information data to all data including educator preparation, educator evaluation, teacher recruitment, and licensure and finance. Through a joint project with the Gates Foundation, Belk, and UPD Consulting, DPI has updated the teacher preparation data standard, and is working on a dashboard for the presentation of that data. Additional enhancements include:  
Expanding the existing longitudinal data warehouse (CEDARS) by installing the full CEDS schema.   

Expanding the Uniform Education Reporting System (UERS) into a full specification for all K-12 Data, replacing the "System" terminology with "Specification".  
Data Centralization and Management: DPI understands the need to better manage its data and has made major improvements in this area. The agency partnered with the Government Data Analytics Center (GDAC) to build a centralized enterprise data store (EDS), consisting of an operational data store and a data warehouse, to house student data from the existing student information system (SIS). GDAC continues to expand the EDS to support the operational and financial reporting system and provide transparency and insight. 
 
Data Transparency through Reporting and Analytics: The EDS is intended to enable near real-time educator visibility and control and provide data management and advanced analytics for decision support. With the EDS in place, DPI will now have the ability to provide data transparency to all of its constituents. In conjunction with GDAC, DPI recently deployed a Financial Transparency Report Card, which is currently in final user acceptance testing. Additionally, DPI is training all appropriate personnel on visual analytics and reporting. Many reports have already been rewritten with an eye to self-service.  
 
Data Integration: DPI is working on a joint project with the Department of Information Technology (DIT) to develop and leverage integration platform as a service (iPaaS). DPI is one of the pilot agencies leveraging this new tool.